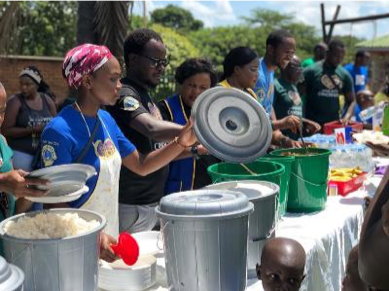 The Challenge in Africa
Nearly 80% of children with cancer live in low or middle-income countries, where only 10% of children survive cancer. In developed countries like Canada, Japan, and the United States, more than 80% of children with cancer survive. The good news is that the world can be more successful at curing cancer in children. However, much work needs to be done to improve access to drugs and treatment, train healthcare providers, improve facilities and technology, and address socio-cultural barriers to improve global childhood cancer survival rates.
Global HOPE Partnership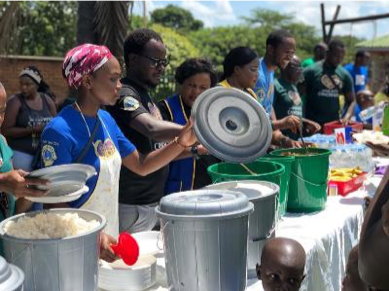 In May 2019, LCIF entered into a formal partnership with Global HOPE (Hematology-Oncology Pediatric Excellence), a program of Texas Children's Hospital and Baylor College of Medicine. Launched in 2017, Global HOPE is a transformational initiative that is improving the standard of care for children with cancer in sub-Saharan Africa.
Building on the foundation of Baylor College of Medicine's International Pediatric AIDS Initiative (BIPAI) in treating childhood AIDS in Africa, and relationships with governments and Ministries of Health established by BIPAI, Global HOPE has been able to rapidly and effectively treat nearly 7,500 children and train over 1,500 African healthcare professionals in the care of pediatric hematology-oncology since its inception.
The LCIF Board of Trustees approved a 2 year strategic partnership between LCIF and Global HOPE to cooperate in building long-term capacity in Africa to treat and dramatically improve the prognosis for children with cancer and blood disorders in Sub-Saharan Africa. This partnership will help strengthen the local healthcare infrastructure to effectively provide the multi-disciplinary care that is needed to optimally care for children with cancer and blood disorders.
The partnership includes three components:
LCIF funding support of US$2 million over 2 years to support Global HOPE infrastructure, strengthening projects in Uganda, Malawi, and Botswana.
Engagement of local Lions at the country level in Global HOPE activities within their country.
Joint fundraising where financial support is mobilized for the partnership.
To support this partnership and our growing work to improve outcomes for children with cancer, donate to LCIF.